The EKU Board of Directors is a volunteer body of Kayak Ultimate enthusiasts who help to lead and arbitrate the sport. Members of the board help to run games and events during the summer months and support and grow Epic during the off-season by assuming the duties necessary to maintain the organization.
Board of Directors Members

Anthony Mustered - President, Marketing Director
Anthony Mustered fell in love with Alaska in the mid 90's and decided to make it home. Since then he has spent his time exploring this great state and loving every minute of it. He is the Owner/Operator of Alaska Dream Adventures, a sightseeing tour and outfitting company that sells and rents kayaks, canoes, and related equipment. Anthony is an Eagle Scout with first aid and emergency preparedness training, which can come in handy as he is an avid outdoorsman. He has been paddling all his life, and loves to be on the water. He also enjoys reading and computer games, but mostly in the winter when the paddling opportunities are sparse.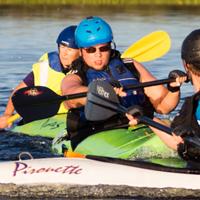 Jarrod Zerbe - Vice President
Born and raised in Alaska, Jarrod participated in downhill skiing, basketball, and baseball before injuries took him out of those activities for years.  He switched to competitive digital gaming and hobbycrafting to sate the competitive hunger.  After years of encouragement, he finally tried out Epic. Since then, he has become a full-time player, teacher, team captain, and board member.
Virginia Parr - Treasurer
Virginia Parr is an amazing all around athlete who puts us all to shame with her heroic sports abilities!
Byron Thorne - Secretary, Visual Media Manager

Growing up in rural Alaska, Byron Thorne was introduced to canoeing at a young age. After a brief hiatus from the water during college, he was finally convinced to try out Epic, and hence kayaking, in 2013 falling in love with both instantly. He currently manages the paddlesports department at Beaver Sports and works as a weather observer at the Fairbanks airport. When not on the water, he also enjoys hiking, biking, skiing, and reading.